Raynor Garage Doors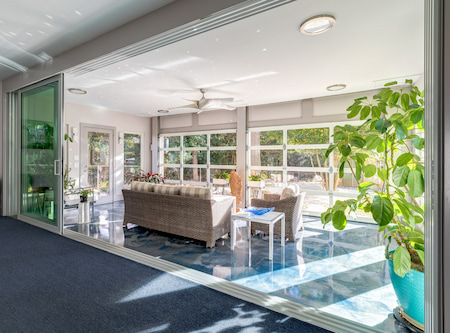 There are many new features that come with many modern sunrooms, and Outdoor Living Roomzz LLC, the premier name in modern sunroom construction in North Carolina, is proud to give you these options. Raynor Garage Doors are the perfect innovative solution for large expanses of glass in a sunroom.
The garage doors are made to be as unobtrusive as possible. We can install them so they are hidden in the ceiling or down through the floor when opened up.
We want to be able to use our sunrooms year-round, not just spring and fall. With a Raynor garage door installed during your sunroom construction, you can go from a completely enclosed room to a completely opened screened room anytime you like.
If you're interested in new Raynor Garage Doors or stacking glass walls for your North Carolina home, give our team of skilled professionals a call today.
Raynor Aluma View AV300 Garage Doors
Designed for peak performance and strength, this 2" thick aluminum garage door is available in larger sizes and features bold rail construction for maximum durability, reliability and beauty.
Every AlumaView AV300 door is built for superior performance and includes the features listed below.
Durability - Door sections are clear-anodized for maximum durability and are designed to withstand minimum wind loads of 20 p.s.f. Higher pressure ratings are available upon request.
WeatherSeal - AlumaView doors help you reduce energy costs with a U-shaped, vinyl bottom weatherseal secured by a sturdy aluminum retainer.
Construction - AlumaView AV300 & AV175 panels and glass are sealed and held in place with a snap-in retainer.
Hardware - Your AlumaView garage door comes packaged with the right combination of hardware, track and springs to match your door's size and application.
What Clients Are Saying About
Outdoor Living Roomzz LLC
If you are thinking of adding a deck, patio or sunroom to your house you should definitely consider hiring Ron at Outdoor Living Roomzz LLC. He transformed our cookie cutter house and 12x12 deck into something that is amazing. Before going with Ron w [...]
Towards the end of the project we told Ron that we were frustrated with the price and quality of the outdoor furniture on the market. He suggested that he could make us some furniture. We ended up having him make 2 chairs an 8' sofa/couch, outdoor be [...]
Our Latest Projects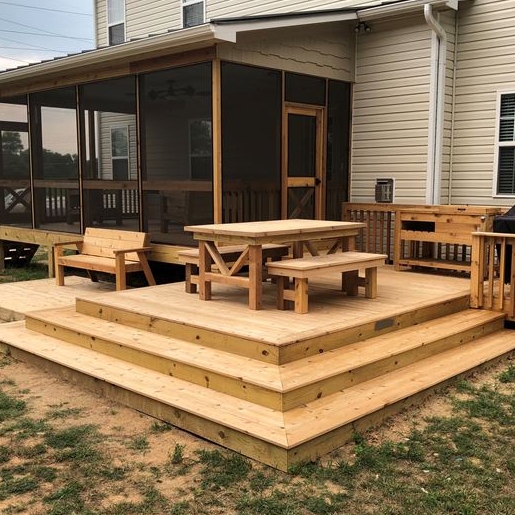 A custom porch and wrap around deck totally made out of cedar. OLR designed this custom porch made from all cedar products. The doors are custom made out of cedar parts. The inside wall is LP Smart L […]