Outdoor Living Roomzz LLC: Modern Sunroom Design & Build Construction Specialist!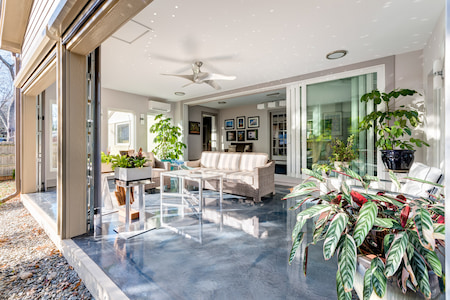 Our services at Outdoor Living Roomzz LLC are focused on providing our North Carolina clients with beautiful modern sunrooms that they can enjoy all year long. We meet this goal by designing and building modern sunrooms, uplifting existing sunrooms with our products, and building new sunrooms for smart homes.
In addition, we design and build screened-in porches and custom decks to enhance your outdoor living enjoyment.
While we as a leading modern sunroom builder in North Carolina specializing in design & build, we can offer sales or installation of several specific products such as specialty sliding doors and garage style sunroom doors. All of our products work with Smart Home Setups, including voice activation for motorized glass doors to open and close.
If you're looking for high-quality modern sunroom construction in North Carolina, give our team of skilled professionals a call today and let us help you get started.
What Is The Outdoor Living Roomzz LLC Solarium?
The Outdoor Living Roomzz LLC Solarium is the classic sunroom, lending nature some help with technology and aesthetic appeal. We offer three rooms in one:
A climate-controlled room that can be enjoyed year round
A comfortable screened-in porch
A wonderful walk-out porch
How Do We Do It?
Outdoor Living Roomzz LLC incorporates the automation of doors and windows into a solarium that can be used every day of the year. Here's the details: Wall-sized sliding glass doors automatically open, a little or a lot. A pass of your hand over the control screen keeps it simple. Full view, powder coated garage doors disappear into the ceiling. Want screens in their place? No problem. Phantom Screens drop from the ceiling as the glass doors rise. We don't like bugs in our space either. Why pay for something usable only four months of the year? Triple your value and use your Outdoor Living Roomzz LLC Solarium year-round.
What Clients Are Saying About
Outdoor Living Roomzz LLC
If you are thinking of adding a deck, patio or sunroom to your house you should definitely consider hiring Ron at Outdoor Living Roomzz LLC. He transformed our cookie cutter house and 12x12 deck into something that is amazing. Before going with Ron w [...]
Towards the end of the project we told Ron that we were frustrated with the price and quality of the outdoor furniture on the market. He suggested that he could make us some furniture. We ended up having him make 2 chairs an 8' sofa/couch, outdoor be [...]
Our Latest Projects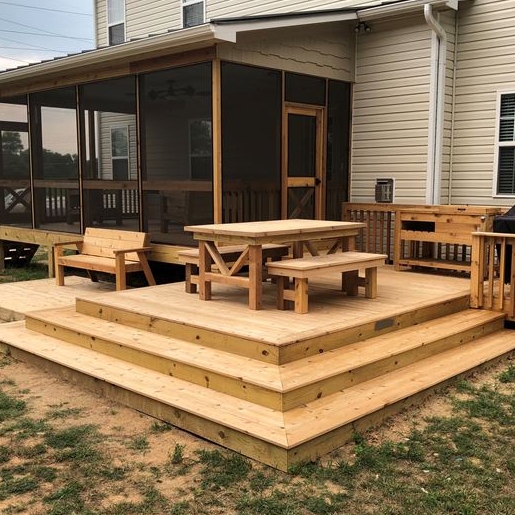 A custom porch and wrap around deck totally made out of cedar. OLR designed this custom porch made from all cedar products. The doors are custom made out of cedar parts. The inside wall is LP Smart L […]